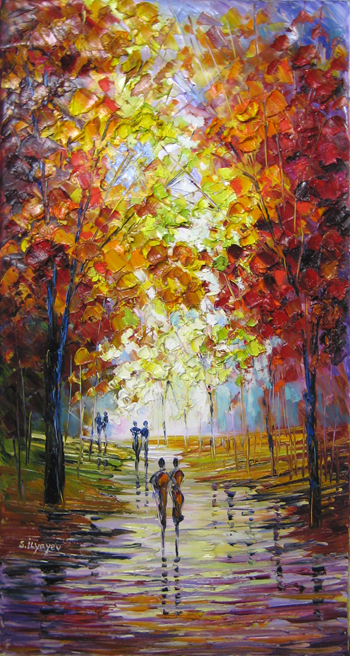 Slava Ilyayev

Slava Ilyayev was born on May 11, 1970 in Baku, Azerbaijan. Ilyayev began studying art in his hometown in 1991; after immigrating to Israel in 1995, he continued his studies at the renowned Avni Institute of Art in Tel Aviv.

Ilyayev participated in his first major exhibitions in 1999, at the Art and Sculpture Union in Tel Aviv, and at the Safari Gallery in Jerusalem. Exhibits soon followed throughout Israel and abroad, as well as shows in the United States.

Ilyayev's works are characterized by the heavy texture he creates by applying oil paints with a palette knife. The use of light and shadow in his works is inspired by the changing of the seasons. In addition to painting, Ilyayev teaches are in schools and academies in Israel, an endeavor which first began in 1998.

Remember every time you purchase Slava Ilyayev artwork over $995, shipping is FREE in the continental U.S. and there is NO SALES TAX when you purchase outside of Colorado. We SHIP WORLDWIDE and offer Layaway for Slava Ilyayev art.