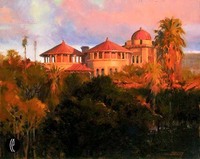 Ron Chesley

Ron Chesley is a native Californian who began his interest in art at an early age. When Chesley's high school art teacher recognized his potential as an artist, the teacher provided him with a private studio where Ron Chesley could focus and develop his skills.

Ron Chesley studied at the Art Center College of Design in Pasadena, California. Following graduation Chesley started his artistic career at Disney as a producer and art director. Through the years, Ron Chesley's professional design and illustration work has won him numerous awards, and during Chesley's almost four decades in this field he has been a faculty member at The Art Center.

For the last fourteen years Chesley has been an art director with The Walt Disney Company where he also teaches Plein Air painting workshops at locations around the United States. In addition, Chesley is a featured artist in The Walt Disney Company Annual Ryman Foundation Art Exhibition. Ron Chesley began working exclusively as a fine art painter in 2001 highly influenced by the Plein air style that incorporates lively brush strokes, vibrant colors and spontaneity. Ron Chesley's masterful interpretation of color as it is affected by both light and shadow demonstrates his mastery as an artist.

Remember every time you purchase Ron Chesley artwork over $995, shipping is FREE in the continental U.S. and there is NO SALES TAX when you purchase outside of Colorado. We SHIP WORLDWIDE and offer Layaway for Ron Chesley art.