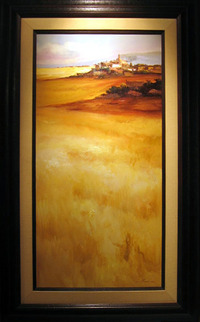 Carrion paints what he sees as he walks throughout Spain: The warmth of the harvest, the hopefulness in spring colors and early blooms, the landscapes vast lushness. A faithful lover and defender of Mother Nature, Carrion says when I paint outside it signifies a confrontation and a challenge to capture glorious nature at her most brilliant. In reality Carrion's great desire is for the world to make a conscious change. That people would be made aware of the damage that is being done to the earth and make efforts to curtail and reverse that damage.
Carrin names Goya, one of the last Old Masters, as his main inspiration. In particular, he admires the Black Paintings by Goya which prefigured the Expressionist movement to come. Carrion also speaks passionately of Picassos works of art. Throughout Carrions artistic path he has experimented with different painting techniques, however oil and mixed media, remain his favorite.
The progression of Carrin's work evolves from Symbolism to Figurative. Engraved in his heart are the characteristics of everyday life in Spain. Carrion lets himself be guided by his state of emotion in each painting and he utilizes music to arrive at a deeper receptive state. A lover of music and poetry, Carrion composes and writes lyrics for his Spanish guitar. Carrion quotes, "life without art is as life without love; it makes no sense."
Married and living in Madrid with three daughters and a son, Carrion describes his children with affection: Jos, the writer and philosopher, Paz, the romantic, Penlope, sweet and introverted and the smallest, Alba, a painter like her father and rebellious at 12 years of age.
Remember every time you purchase Carrion artwork over $995, shipping is FREE in the continental U.S. and there is NO SALES TAX when you purchase outside of Colorado. We SHIP WORLDWIDE and offer Layaway for Carrion art.
---