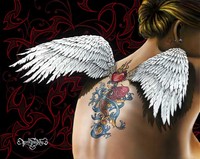 Bone Daddy has loved to draw for as long as he can remember. He loved to read books about ghosts and watch scary movies. "Even as a kid I was fascinated by the darker side of life." One of his favorite pastimes was catching bugs. "I would play with them for a while and somehow I'd always end up killing them accidentally. So I would take their carcass, grab my pencil and paper and use them as models for my art. Even as an adult there's nothing I find more fun than drawing spiders."
When Bone Daddy was in high school he lived in the Midwest, with cows and horses on the 20 acres surrounding his house. Bone Daddy used to journey through these big fields, where he would find the bones of deceased cows, gather them up in a wheelbarrow, tote them back to the house, clean them up, wire them together, and create some really cool sculptures. That's how he ended up with the nickname Bone Daddy, and it stuck.
Most of his favorite art is what people would refer to as lowbrow. Some of his favorite artists include Shag, Mark Ryden, and many of today's tattoo artists. Bone Daddy's art is about the things he enjoys: sex, color, and life with a taste of the macabre. His style is influenced by the piles of comic books he collects and the artists whose work he enjoys.
A lot of people ask if Bone Daddy has any formal art training. He comes from an artistic family; his father was an artist, and so are his two sisters. The only professional training on Bone Daddy's resume he received assisting Michael Godard, the internationally recognized artist most famous for his "martini" paintings. Bone Daddy remembers, "He is the main person who convinced me that I should do something more with my art."
Remember, there is NO SALES TAX when you purchase outside of Colorado. We also offer deals on domestic and international shipping through UPS/FedEx. Don't forget to ask about our Collector's Financing Program through Wells Fargo to make payments stress free.
---