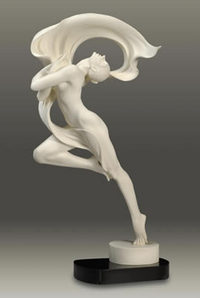 Gaylord Ho is masterfully skillful sculptor and an inspired artist. His goal in every sculpture is to bring to life the emotion of the moment being frozen forever in clay. Gaylord Ho was born April 11, 1950, in Hsin-Wu, Taiwan. Ho grew up on a small rice farm but did not wish to become a farmer. Gaylord Ho graduated at the top of his class. His student sculptures won the National Sculpture Exhibition. Gaylord Ho went on to study under some of the great Japanese sculptors of the day. The experience gave him sharpened sculpting skills and an in depth knowledge of the techniques of porcelain and ceramic manufacturing.
In Taiwan, Gaylord Ho began working at a porcelain manufacturing company which he then acquired and renamed Gaylord Design. Gaylord Ho spends a lot of his time teaching others the fine art of porcelain sculptures. Ho shares his time between two homes, one in Taiwan and one in California.
Remember every time you purchase Gaylord Ho lohr artwork over $995, shipping is FREE in the continental U.S. and there is NO SALES TAX when you purchase outside of Colorado. We SHIP WORLDWIDE and offer Layaway for Gaylord Ho art.
---