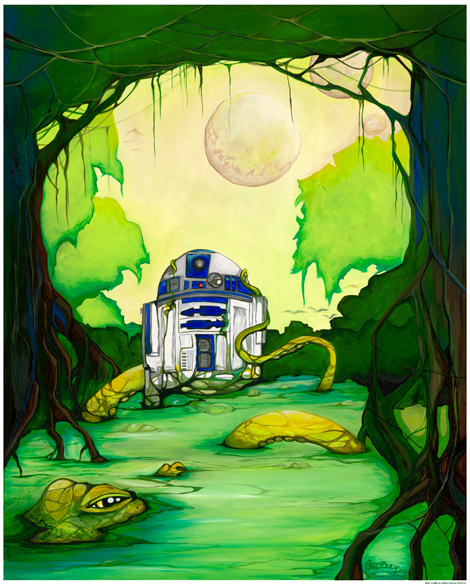 Grant Searcey grew up in a tiny rural community with few distractions where his imagination was allowed to blossom. He studied Fine Art and Art History at Nebraska Wesleyan University. At age twenty he had his first studio space and gallery reception at the Burkholder Project in Lincoln, Nebraska.
Painting has become a type of meditation for Grant Searcey. "I put on my favorite music and dive into another world of pure creativity for hours at a time." In June of 2004 Grant Searcey received a life-saving heart transplant. He had been very ill with Cardiomiopathy from age 18 to 28 and a new heart was his only option. The operation was a success and his artwork has played a crucial role in helping him survive and recover. "During times when Ive questioned whether I would live or die, I have repeatedly turned to painting as a powerful coping mechanism. It NEVER lets me down."
In 1996 Grant Searcey sold his first painting and has been putting his talents to work ever since. Grant Searcey's inspiration comes from a variety of sources ranging from science fiction, plant and animal life, to people and urban architecture. Comic books and graffiti art have been the two biggest influences while developing his style of art. Three of Grant Searcey's paintings have been reproduced and distributed globally with the Lucasfilm Interpretive Artist Program where his highly stylized renditions of the George Lucas characters can be found in galleries and shops world-wide. One of his recent paintings was part of a Collection of Rare Interpretive Art Work Inspired by Family Guy! In association with Twentieth Century Fox and Acme Archives this show kicked off at LA LUZ de JESUS Gallery in Los Angeles and it is currently on tour to Toronto, London, Sydney, New York, Chicago and San Franscisco.
Grant Searcey currently lives and paints in Los Angeles, California. When he's not painting he is designing and selling a line of designer jewelry with his wife Mindy.
Remember every time you purchase Grant Searcey artwork over $995, shipping is FREE in the continental U.S. and there is NO SALES TAX when you purchase outside of Colorado. We SHIP WORLDWIDE and offer Layaway for Grant Searcey art.
---