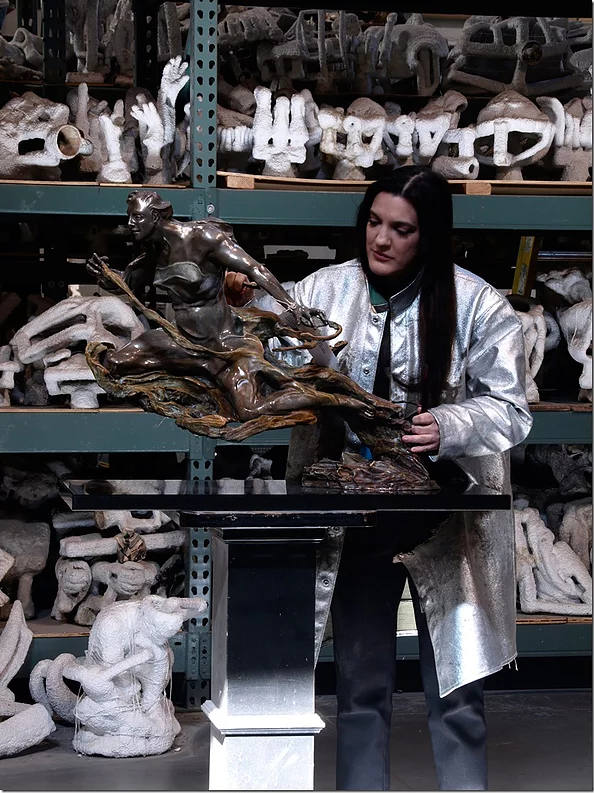 Blowout Sale! 30% Off ALL M.L. Snowden Sculptures!*
*Sale only valid while supplies last. Sale only applies to available artwork. Does not apply to past purchases or current layaways. Cannot be combined with any other discounts. Additional S&H fees may apply. Please call for more details.

For the young Snowden living in New York City, part of the positive potential of sculpture was nurtured through family friends Salvador Dali, Paul Manship, and Isamu Noguchi; all of whom encouraged M.L. Snowden at an early age to pursue her love of art. As Snowden recalls, Actually I felt Dali liked children. When he was showing my mother creative furniture hed designed, he made me take my chewing gum out of my mouth. He told me to take my wet gum in my fingers and had me roll a little worm which was a snake and a ball which was an apple. He said all natural forms are based on these two little shapes, whether theyre stretched, melted into other things, or are left alone. He told me my arm was a snake and my head was an apple. I had received an art lesson and I was delighted! Such family associations sprung from the time when George Snowden joined Dali, Manship, and Noguchi in creating commissioned art for the 1939 New York Worlds Fair.
Snowden was one of the first women to be admitted to the all-male campus of Loyola University before it merged into Loyola Marymount in Los Angeles, California. She was also the first woman in her familys history to attend college. In the 1970s at Loyola, Snowden was eager to expand University resources. Noting the absence of a sculpture program in the curriculum, she rapidly established the first bronze foundry on campus where she produced a succession of bronzes, performing all stages of casting and chasing. As an already accomplished sculptor, Snowden not only pursued human anatomy, chemistry and a range of sciences relating to metallurgy, but continued oil painting studies under Stanton Mac-Donald-Wrights pupil, professor Pauline Khuri Majoli.
Unlike her father and every other sculptor before her who had used models, in the 1970s M.L. Snowden dispensed with professional live models. The sculptor found new sources of design through looking into the swirling abstract whorls of her clay, where the natural folds and nuances of raw material suggested sculptural figural forms. To Snowden, mining raw clay seemed no more exotic than the Chinese art form of identifying artful natural rock formations and mounting them into objects of sculpture. Snowdens time in the studio was transforming into an entirely imaginative conversation with her physical mediums.
"What is not generally known is that I dont set about to create a specific geological or astrophysical formation. Im never engaged in an illustrative process. What comes about is more of a dance between my dream-state perception and the reality of the clay transforming like a deep diving membrane forming within a fathomless and clouded sea. Its only upon finish and contemplation that I can see what Ive made. It seems that my sculpture is accurate to the core and scaled proportions of the phenomenon the work comes to be named after. And those names are almost always scientific terms even in the case of a sculpture such as Windscarf; which is a type of geologic formation rather than a romantic title. Again, mine is not centrally a programmatic or illustrative art.
Thus the works of the Geological Coreium embody the shapes of the natural phenomena theyre scientifically named for, but according to Snowden, the shape is revealed first, the phenomenon is discovered and identified later. According to Snowden, The geological program is more of an introductory and diverting road map that intentionally obscures the core essences of what the work is really about, which is for me, at root, an unalloyed energy arc of spirit. The work houses the deep dream that once came to me and is with me still and remains always. The power of the dream is incarnate here in these bronzes in the foundry. Bronze is a continuous, fluid revelation housing markings, written letters, forms and dissolutions, where sources of shifting light move against the terrain of the metal, revealing new qualities each time the observer sees it.
Snowdens art has attracted an international roster of distinguished commentary. According to Peter Fusco curator emeritus of sculpture at the J. Paul Getty Museum, Snowden creates Beautiful. Impressive sculpture. On winning the Ettl Grant, the late Alex Ettl remarked at the awards ceremony that M.L. Snowden is that one living sculptor whose inventive touch carries the authentic essence of the master Paris ateliers. Her intensive handwork is the last remaining and unbroken line that reaches us today from Auguste Rodin. Put simply, M.L. Snowden is the closest and last living link to Auguste Rodin. More importantly, she has made this heritage uniquely her own as a basis for new groundbreaking sculptural invention. As a historically important artist, shes shaping the new pinnacle of contemporary figurative sculpture. On the delivery of Snowdens art to Her Majesty Queen Elizabeth II, Buckingham Palace succinctly pronounced the work Splendid.
Remember there is NO SALES TAX when you purchase outside of Colorado. We also offer deals on domestic and international shipping through UPS/FedEx. Don't forget to ask about our Collector's Financing Program through Wells Fargo to make payments stress free.
---