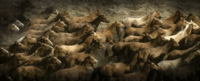 Norm Clasen is a photographer-artist whose career spans four decades of breathtaking work. Clasen was one of the photographers for the world-famous "Marlboro Man" advertising campaign, considered to be one of the most recognizable images of all time. Norm Clasen has continued his love affair with the iconic West and now focuses on the magnificent horses that roam the landscape. Norm Clasen captures the magic of the animals in his memorable and dramatic images that make the viewer marvel at their sheer power, grace, and beauty.
Norm Clasen is one of the finest equine photographers of our day. His award winning western art and horse photography is unparalleled. Norm's experience working with Marlboro for 12 years gives him a special insight to creating photos of cowboys, the west and horse images.
Remember every time you purchase a Norm Clasen artwork over $995, shipping is FREE in the continental U.S. and there is NO SALES TAX when you purchase outside of Colorado. We SHIP WORLDWIDE and offer Layaway for Norm Clasen art.
---