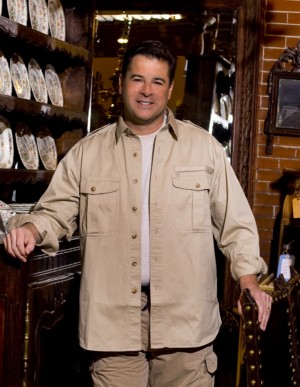 Who is Aaron LaPedis?

He's helped the FBI, been on numerous TV shows, and has written several books. So, what makes Aaron such a valuable person to know? Its his ability to see value.

Aaron LaPedis has been in the art and collectible business for over 32 years. Over the course of these years, with the help from his wife Sandee, he has cultivated two prosperous galleries, a successful television show, and now a flourishing new award-winning book! When he is not working at one of his galleries or on his television show, he is lending a hand to one of his beloved charities.

Early on in his art career, he was often asked to give interviews to the local and national press. After a period of time he was given the opportunity to have his own television show on the local Public Broadcasting System's (PBS) stations. In May of 2001, "Collectibles with Aaron "and "The Collectibles Show" was born and aired in Colorado for the first time. Aaron has taped more than fifty half-hour segments focusing on the diverse world of collecting, including: coins, wine, fine art, animation, and sports memorabilia. Aaron's engagingly personable and informative style educates his audience in the many ways of becoming better collectors and treasure hunters. This development lead to the creation of his own show "Collect This!". It had placed as the top-rated show for its 7th year and was broadcasted nationwide where it received over 1.0 million national viewers monthly as well as 100,000 viewers per weekend within just the state of Colorado. He became an expert for those who aspire to see value hidden in the world around us and his reputation on these subjects has made him a popular and sought-after public speaker.

Then in February of 2010, Aaron's first book "The Garage Sale Millionaire" was released. This book gives the new or seasoned collector many highly guarded secrets to a successful and profitable treasure hunt. (www.thegaragesalemillionaire.com)

Aaron's expert credentials do not just stop with his own television show and book. The Discovery Channel created a half hour segment on his numerous collections and expertise. Entrepreneur Magazine wrote an article on his success as a master collector and inventive entrepreneur. He has guest-hosted a collectibles show on Dish Network, has written a column (https://www.denverpost.com/author/aaron-lapedis/) for the Denver Post , Rocky Mountain News, and The Denver Business Journal, and he has hosted a weekly four minute segment on the local Denver ABC affiliate, KMGH, called "The Collectibles Guy." Even the FBI has recruited him to apply his knowledge on collectibles to unsolved cases.

Now, Aaron is working on his 3rd edition of his book and he is a regular on the TV show "The List". He has a wonderful wife, Sandee, and a fantastic son, Logan, who is on the spectrum of autism. Aaron is currently writing his third children's book (https://www.aboynamedpenguin.com/buy-the-book/) to illustrate that being different is not an adversary, but an advantage.