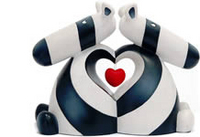 Peter Smith was born in the small town of Mansfield, Nottinghamshire and bypassed the well trodden route to the local industries to follow the somewhat unusual lifestyle of an artist. Peter Smith experienced different jobs as a surveyor, a computer programmer and eventually a graphic artist within the fashion industry, a job he enjoyed for 16 years. Peter Smith has spent the last two years increasing his presence within the art world and honing his skills to the standard you now see before you.
Peter Smith likes to include some form of connection between his pieces and those viewing his work. Quite often Peter states that the eyes will play a big part in leading a viewer's perception of the work. Peter Smith takes inspiration not only from observing human life but also from other artists, such as Will Bullas and he also enjoys the surreal style of Salvador Dali.
"People ask me where I get my ideas from, the quirky animals, the strong colours and strange concepts, but I see them everyday in the street, the people I meet, the feelings I experience. At the end of every day I have hundreds of images fighting for my attention and the chance to be created; quite often I get carried away with excitement and fill my sketchbook from cover to cover within hours, which although it can be emotionally draining, the flood of ideas each one linking the next, allows me to evolve my work very rapidly giving me such a rich source of material."
Remember every time you purchase Peter Smith artwork over $995, shipping is FREE in the continental U.S. and there is NO SALES TAX when you purchase outside of Colorado. We SHIP WORLDWIDE and offer Layaway for all Peter Smith art.
---