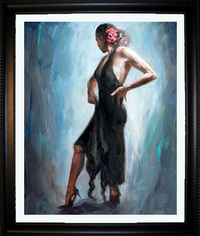 Born in Paipei, Tawain in 1974, it was obvious that Tony Chow showed an appreciation for the masters. At the age of 11, Tony Chow interest sprang a dedication to express his talents on canvas as well as an understanding to the motives behind such masterpieces.
Tony Chow came to the United Stated in 1995. Chow received a B.A. in Fine Art from the Art Center College of Design in Pasadena, California in 2000. From here, Tony Chow's interest and talents developed into a unique style all his own.
Tony Chow's subjects include contemporary women and a careful depiction of the sculptures of masters. Perhaps there is an intentional portrayal of a unique relationship between these sculptures and the subject. It's as if time has paused to glance at his bold strokes, with an intriguing blend of past and present.
Through his tedious process of layers and textures filled with balance and color, Tony Chows canvas come together with a beautiful multi-layered surface that depicts emotion from all who view his work.
Remember every time you purchase Tony Chow artwork over $995, shipping is FREE in the continental U.S. and there is NO SALES TAX when you purchase outside of Colorado. We SHIP WORLDWIDE and offer Layaway for Tony Chow art.
---