Katie Kelly Fine Art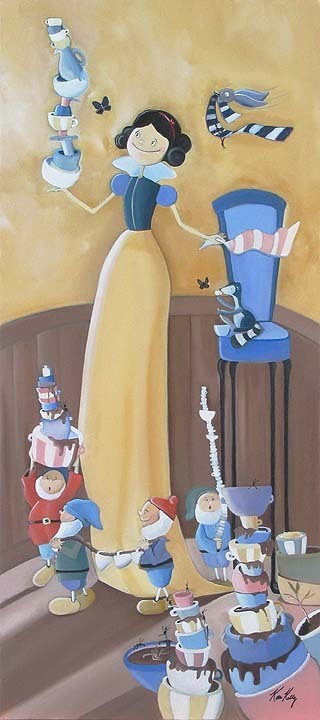 Katie has been interested in illustration for about as long as she can remember, but there was a moment when she was nine years old that crystallized her future artistic endeavors. During a family holiday her grandma displayed a set of illustrations and political cartoons that her grandfather had created during World War Two. Katie was captivated by her grandfather's artistic abilities and felt an overwhelming desire to paint and draw as he did. She knew, from that day forward, that art would be a crucial part of her life. She began sketching seriously that very day and has been at it ever since.
Her style is best described as happy, whimsical, quirky, and a little bit twisted. Katie Kelly often exaggerates certain elements within her paintings because she feels that unnatural characterizations can evoke stronger emotions than those rendered exactly, enabling people to connect with and understand them from unique perspectives. She likes endowing natural elements such as trees, water, and the sky with human traits while, on the other hand, she gives rigid - almost robotic - qualities to human characters.
Remember, there is NO SALES TAX when you purchase outside of Colorado. We also offer deals on domestic and international shipping through UPS/FedEx. Don't forget to ask about our Collector's Financing Program through Wells Fargo to make payments stress free.
Do you have a question?
Fascination St. Fine Art is a brick and mortar gallery in Denver (Cherry Creek North), CO
Copyright © www.FascinationStArt.com and affiliates - all rights reserved. Images, trademarks, and information on this website are the property Fascination St. Fine Art, its affiliates, and designated studios, publishers and artists. This website is owned and maintained by the staff of Fascination St. Fine Art. Any use of this website constitutes acceptance of our [
Fascination St. Fine Art Website User Agreement
]. Prices and availability are subject to change.