Bob Doucette Fine Art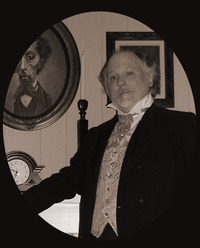 Bob Doucettes whimsical and highly saturated images come from the world of dreams. Sometimes bordering on psychedelic, his imagery is a product of a decade of theater work which included lots of puppet design and twenty three years in the world of animation. As a young boy he was denied the right to own dolls which propelled him to create his own. The repressed desire for dolls remains a driving force for his doll-like imagery. By tapping into his unconscious thoughts and the collective consciousness he is able to be personal and universal with his themes.
Bob earned a BFA at RISD and an MFA at CalARTS and studied both illustration and animation. His independently animated films won him many prestigious awards and honors and his MFA thesis film Pink Triangle is in the permanent collection at the New York Public Library. His Ben Franklin doll, created for the White House Christmas tree in 1999, is in the permanent collection of the Smithsonian. Many of his dolls are in the private collection of Demi Moore and have been featured in magazines articles, TV programs and sold in galleries. He was born in Waterville, Maine and at present lives in Los Angeles California with his husband.
Remember, there is NO SALES TAX when you purchase outside of Colorado. We also offer deals on domestic and international shipping through UPS/FedEx. Don't forget to ask about our Collector's Financing Program through Wells Fargo to make payments stress free.
Do you have a question?
Fascination St. Fine Art is a brick and mortar gallery in Denver (Cherry Creek North), CO
Copyright © www.FascinationStArt.com and affiliates - all rights reserved. Images, trademarks, and information on this website are the property Fascination St. Fine Art, its affiliates, and designated studios, publishers and artists. This website is owned and maintained by the staff of Fascination St. Fine Art. Any use of this website constitutes acceptance of our [
Fascination St. Fine Art Website User Agreement
]. Prices and availability are subject to change.