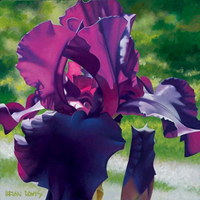 The artist Brian Davis has the profound depth, the beauty of soul, and the unique composure of a man who truly understands the creation of a piece of art. Known for his magnificent flowers, Brian Davis transforms exquisite blossoms like roses, calla lilies, and dahlias into romantic, compelling images with sharpness, color, movement, edge, and light.
Before he begins his artistic journey on canvas, Davis combs the fields and gardens near his Los Angeles home, searching for a flower or landscape that catches his eye. Brian Davis carries his camera everywhere so he can shoot a flower or landscape at any moment. Since flowers wilt so quickly, and it can take weeks to make a painting, Brian Davis has found a way to create his floral image from a series of different shots for each flower.
Brian Davis may not do an exact botanical rendering, changing colors and leaves at will. Brian Davis believes that the great depth in his art is derived from his paying great attention to the subtle shifts in value (relative dark and light). Brian Davis is often asked if there is a light source behind his paintings making them look so lit up. "The light is the real subject of my work. The flower is the stage, the light is the dancer." - Brian Davis.
Utilizing two hanging mirrors, so that he can view his unfinished work at all angles, Brian works daily in his small studio filled with books, music, and historical videos.
Greatly influenced by the Dutch Masters, along with the artists of the Art Nouveau and Art Deco, Brian is inspired by images of highly stylized renditions of birds and flowers and their intensity of color achieved by many, many layers of paint.
Brian Davis is a true artist with a vast understanding and knowledge of art. His cerebral view of paintings causes him to say, "My art, like all art, is at its core a form of communication that is not easily translated into words - good art transcends words." Brian's work hangs in museums and private collections around the world.
Remember every time you purchase a Brian Davis artwork over $995, shipping is FREE in the continental U.S. and there is NO SALES TAX when you purchase outside of Colorado. We SHIP WORLDWIDE and offer Layaway for Brian Davis art.
---