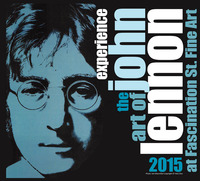 30% OFF ALL LENNON ART!
Remember every time you purchase John Lennon artwork over $995, shipping is FREE in the continental U.S. and there is NO SALES TAX when you purchase outside of Colorado. We SHIP WORLDWIDE and offer Layaway for John Lennon art.
Bag One publishing, Yoko Ono's company to produce John Lennon's art for the last 30 years is closing its doors at the end of February. If you are interested in purchasing a work
All Lennon art that is at Fascination St Fine Art is on heavy discount!
---