Brett Iwan Fine Art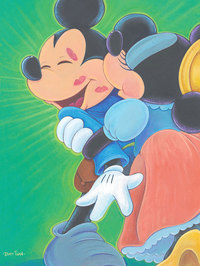 Brett Iwan is one of the top Disney Artists!
We are excited to release the 1st piece in our 2012 Holiday Collection celebrating the romantic holiday of Valentine's Day: Bret Iwan's Kisses for Bravery!
Do you have a question?
Fascination St. Fine Art is a brick and mortar gallery in Denver (Cherry Creek North), CO
Copyright © www.FascinationStArt.com and affiliates - all rights reserved. Images, trademarks, and information on this website are the property Fascination St. Fine Art, its affiliates, and designated studios, publishers and artists. This website is owned and maintained by the staff of Fascination St. Fine Art. Any use of this website constitutes acceptance of our [
Fascination St. Fine Art Website User Agreement
]. Prices and availability are subject to change.