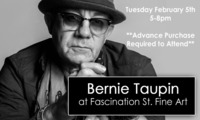 FIFTY YEARS
FIFTY YEARS OF CREATIVITY
FIFTY YEARS OF PASSION
FIFTY YEARS OF FRIENDSHIP
FIFTY YEARS
As Elton embarks on his final world tour, I have been presented with many opportunities to reflect on our musical career. We celebrated our creative partnership at a gala in Los Angeles in 2017, I joined him for his last weekend during his final Las Vegas performances, weve co-hosted a YouTube contest where other artists reinterpreted our songs visually, we were honored with a CBS Grammy Salutes presentation, and we both executive produced two new albums with covers of some of our biggest hits sung by other artists.
But how do I feel about our biggest hits? How do I interpret them as I reflect upon the last 50 years of my professional life? How would I translate them visually?
I spend most of my free time creating visual art now, so I decided to create a body of work in honor of my other body of work, just this once. Fans share often that my lyrics and Eltons melodies have shaped and changed their lives in dramatic, everlasting ways. How can I possibly express my gratitude to the millions of fans who have impacted my life? These especially crafted works of art are my best effort, and I am so
pleased to share these with you. - Vaya con Dios, Bernie Taupin
Bernie Taupin is an English lyricist, poet, and singer. He is best known for his long-term collaboration with Elton John, having written the lyrics for most of John's songs. In 1971, journalist Penny Valentine wrote that "Bernie Taupin's lyrics were to become as important as Elton [John] himself, proved to have a mercurial brilliance. Not just in their atmospheric qualities and descriptive powers, but in the way he handled words to form them into straightforward poems that were easy to relate to."
Taupin's lyrics include such songs as "Rocket Man", "Levon", "Crocodile Rock", "Honky Cat", "Tiny Dancer", "Candle in the Wind", "Saturday Night's Alright for Fighting", "Bennie and the Jets", "Goodbye Yellow Brick Road", "Mona Lisas and Mad Hatters", "Don't Let the Sun Go Down on Me", "The Bitch is Back", "Daniel", and 1970's "Your Song", their first hit. Hits in the 1980s include "I'm Still Standing", "I Guess That's Why They Call It The Blues", "Sad Songs", and "Nikita." In the 1990s, Taupin and John had more hits, including "The One", "Simple Life", "The Last Song", "Club at the End of the Street" and "Believe." In September 1997, Taupin rewrote the lyrics of "Candle in the Wind" for "Candle in the Wind 1997", a tribute to the late Diana, Princess of Wales.
Remember, there is NO SALES TAX when you purchase outside of Colorado. We also offer deals on domestic and international shipping through UPS/FedEx. Don't forget to ask about our Collector's Financing Program through Wells Fargo to make payments stress free.