Ana Moran Fine Art Fine Art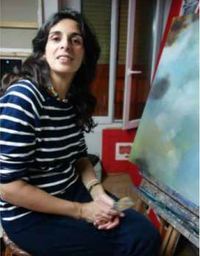 Ana Morn is a contemporary artist from Valencia, Spain. Her artistic training began when she took a yearlong sculpture course at the School of Arts and Crafts in Salamanca. Morn then went on to receive her Bachelor of Arts from the Polytechnic University of Valencia, where she studied from 1998 to 2003. Before pursuing a career as a full-time artist, Morn worked as a conservation and reservation artist in Valencia. Currently, her works are actively shown in galleries in Spain and are within several private collections in Madrid, Valencia, Barcelona, and Len. Morn's whimsical beach paintings aim to capture to beauty of nature and the ways that nature can bring people together. Each of her works portray beachgoers involved in a variety of recreational activities such as sailing, flying kites, riding bikes, and families and individuals walking through tidal pools or along the shore. The beach is a place of nostalgia for most people and Morn enjoys the fact that viewers can place themselves and the happy memories that each wave washes in within each of her paintings. Morn's work highlights the allure of the mundane and the ways we can connect with nature and with each other.
Remember, there is NO SALES TAX when you purchase outside of Colorado. We also offer deals on domestic and international shipping through UPS/FedEx. Don't forget to ask about our Collector's Financing Program through Wells Fargo to make payments stress free.
Do you have a question?
Fascination St. Fine Art is a brick and mortar gallery in Denver (Cherry Creek North), CO
Copyright © www.FascinationStArt.com and affiliates - all rights reserved. Images, trademarks, and information on this website are the property Fascination St. Fine Art, its affiliates, and designated studios, publishers and artists. This website is owned and maintained by the staff of Fascination St. Fine Art. Any use of this website constitutes acceptance of our [
Fascination St. Fine Art Website User Agreement
]. Prices and availability are subject to change.