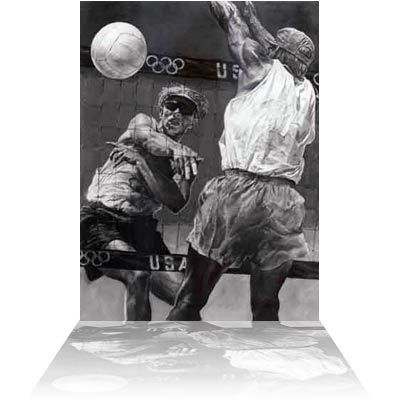 Peyton Manning named Sport's Illustrated's Sportsman of the Year!
Stephen Holland's most recent piece "Hurry Hurry" features and is hand signed by Peyton Manning! It is exclusive to Fascination St. Fine Art, please call 303-333-1592 for more details or to reserve the piece! For more information:
Please Click Here
From Ali to Yogi, from Bogart to Brando, from Eastwood to Evel Knievel, Holland is the master of painting the tough guys of sports and celebrity. There is struggle and triumph, grit and glory, humanity and spirit, in every Holland painting.
Growing up in the mean streets of the Bronx in the 50s, Holland brings the energy of this influence to his professional career. The quality of his work and his popularity rank him among the most successful and popular current American painters.
Standing in front of one of Hollands five-to-six foot peerless portraits, the viewer experiences the painters passion for his subject. His in your face compositions have an uncanny sense of the moment that visually bursts from the canvas. This edginess is further enhanced by his ferocious painting techniques: bold line work, aggressive color and daring shapes and forms. Hes a master of painting black on black and coarse whites.
His painting style evolved from a signature black, white and gray, through a innovative interpretation of retro, to featuring the brighter colors of sports action. His backgrounds grew to include mixed media collages of acrylic paint, paper, stencil work and his original digital posters a texture which some confess, subliminally impress the painting with sound.
Born and educated in New York City, he attended The School of Art and Design, Art Students League, The School of Visual Arts, and Pratt Institute. Holland has garnered the respect given to a master painter, witnessed by the numerous commissions and accolades he receives in the field of music and sports, including The American Sport Art Museum and Archives, Los Angeles Kings, 96 Olympics, The GRAMMYs, LA Dodgers, Major League Baseball, Baltimore Ravens, Colorado Avalanche and proud private collectors worldwide.
Yet, nothing is more acknowledging than the grateful recognition given him by the people he paintsthose who have given to society, the example of their greatness as they experience their legacy preserved in a Stephen Holland work of art.
Remember, there is NO SALES TAX when you purchase outside of Colorado. We also offer deals on domestic and international shipping through UPS/FedEx. Don't forget to ask about our Collector's Financing Program through Wells Fargo to make payments stress free.