Ralph McQuarrie Fine Art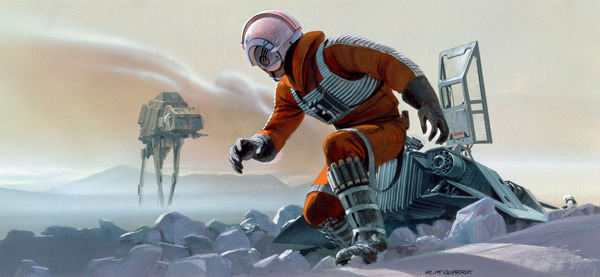 Ralph McQuarrie was born on June 13, 1929 in Gary, Indiana. Even at a very early age, he was immersed in the world of art. His first influences came in the form of his parents. Both of them were artists and it was through them that he got his first taste of painting with watercolor and sketching. He began his official art studies at the age of 10, where he learned technical drawing in high school. These skills qualified him to land his first major job with Kaiser Graphics. Not too long after that, his employment shifted to the Boeing Company. Here, his abilities in mechanical drawing where a major asset as he illustrated the latest concepts in air and spacecraft. With his graphic illustration used for the televised coverage of NASA's Apollo lunar missions, which was viewed by millions of Americans, McQuarrie succeeded in putting himself on the map.In 1965, he made a rather large career move as he decided to pack up and relocate to California. There, he set up his business in Venice Beach where he started free-lancing in the film industry. This consisted of painting backgrounds for animation and creating artwork for movie posters.It wasn't until 1975 that McQuarrie was to come face to face with his destiny...what he is most known for. He became acquainted with a young director named George Lucas who was trying to convince the executives at Fox to finance an epic science fiction fantasy, called "Star Wars" that he had written. McQuarrie collaborated with Lucas and came up with the look of the film. His conceptual sketches and paintings were as original as they were otherworldly. Science fiction films up until then had a pristine and clean look about them. McQuarrie and Lucas instead presented a worn and weathered world that looked very lived in, and with a stretch of the imagination...believable. The project was a go and "Star Wars" was a surprising blockbuster. This led McQuarrie to contribute to the other two films in the trilogy. It is he who gave the iconic looks to Darth Vader, R2-D2, sandcrawlers and stormtrooper armor.This was only the beginning of his conceptual pre-production work and matte paintings used in movies. He went on to work with many films and television programs. In 1985, he won an Academy Award for Visual Effects in the film "Cocoon". With an incredibly versatile body of work, Ralph McQuarrie has become a very influential artist and designer who is continuously emulated all around to world to this day.
Remember, there is NO SALES TAX when you purchase outside of Colorado. We also offer deals on domestic and international shipping through UPS/FedEx. Don't forget to ask about our Collector's Financing Program through Wells Fargo to make payments stress free.
Do you have a question?
Fascination St. Fine Art is a brick and mortar gallery in Denver (Cherry Creek North), CO
Copyright © www.FascinationStArt.com and affiliates - all rights reserved. Images, trademarks, and information on this website are the property Fascination St. Fine Art, its affiliates, and designated studios, publishers and artists. This website is owned and maintained by the staff of Fascination St. Fine Art. Any use of this website constitutes acceptance of our [
Fascination St. Fine Art Website User Agreement
]. Prices and availability are subject to change.