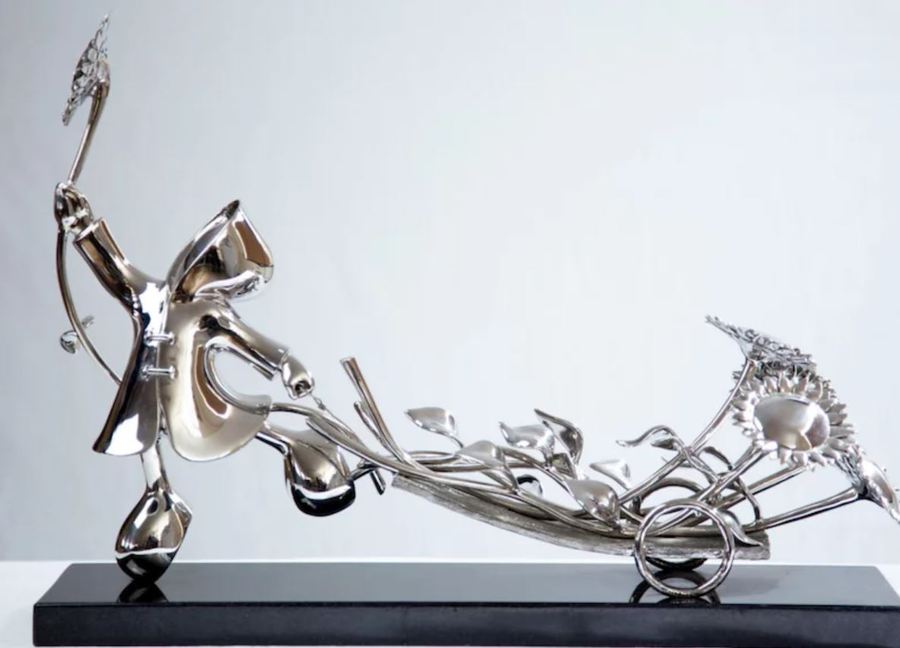 Mackenzie Thorpe's Art is amongst the most sought after in the UK today. His reputation as an artist continues to grow worldwide on an unprecedented scale. He is an ordinary individual, who has, through his art, the extraordinary ability to convey emotions and messages that speak a universal language.
His childhood experiences in Middlesbrough, UK have created in him a mixed bag of emotions. He remembers the warmth of togetherness that comes from sharing hard times and struggle, and the quick street humour that both then and now is so much part of everyday life in Middlesbrough. In contrast to this, he remembers the pain of isolation and loneliness from being an aspiring artist. This was an environment where the aesthetic attributes of art held little or no sway - there were no role models to be guided or inspired by and no indication that art could be anything other than a hobby. Suffering from undiagnosed dyslexia and therefore unlikely to achieve any academic qualifications, it was accepted and understood that Mackenzie would follow the path of his peers into the shipyards, which is what he did at the age of 15.
Eventually encouraged by his uncle Lawrence, he plucked up courage to apply to Middlesbrough College of Art. His lack of formal qualifications and his barely readable application form did little to support his application, but the strength and volume of his work combined with his enthusiasm and obvious talent won him a place, and after two years he transferred to the Byam Shaw School of Art in London. After completing his degree he spent several years working with inner-city children in London before returning to the north with his wife and young children. It was only then that the general public first had the opportunity to view his work. Both visitors and local people recognized the stark beauty of his landscapes and started to smile at the humour, identifying with the images of family, appreciating the naivety of the big heads, the total originality of the square sheep, the forgotten splendour of industry and the people who worked in it.
From then until today, Mackenzie has become one of Britain's most collectable and best-loved artists. Recent accolades have included a 'Best Published Artist Award' from the Fine Art Trade Guild, an Honorary Master of Arts Degree from the University of Teeside, and being chosen to produce five official Christmas cards for conservative politician William Hague. His work expresses the entire range of human emotions, feelings from love, life and laughter, to struggle and adversity, challenge and innocence. Through his unique works, this artist has risen from the people, to draw for the people. An artist whose own life tells us that old frail dreams can become goals that are worth nurturing and working towards, that love and honesty can and will triumph over adversity. Here is an artist who draws and paints about the life that we all live.
Remember, there is NO SALES TAX when you purchase outside of Colorado. We also offer deals on domestic and international shipping through UPS/FedEx. Don't forget to ask about our Collector's Financing Program through Wells Fargo to make payments stress free.