Sambataro Fine Art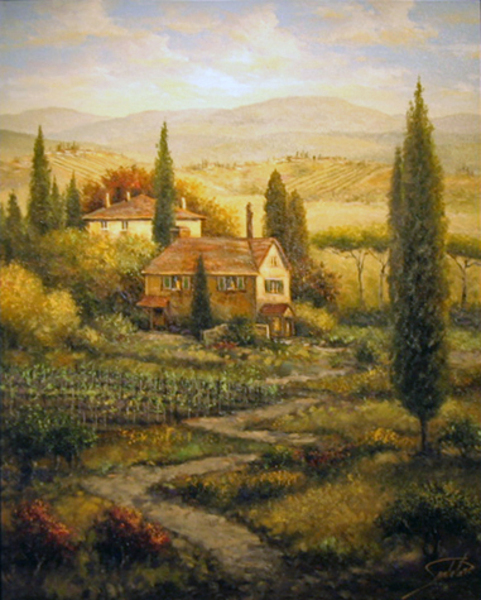 Oil impressionist Joe Sambataro was born in Philadelphia, Pennsylvania in 1947 and attended the Philadelphia College of Arts, and became an honor graduate of the famous Layton School of Art. In addition, he received academic degrees from Marquette University. At 15, Sambataro won his first of many major awards and has himself become lecturer and judge for art leagues, juried contests, exhibitions and colleges. The widespread popularity of Sambataro's original oil paintings is borne out in the fact that Sambataro has sold over 2,500 original works, in addition to over 200 murals. His ability to paint a wide variety of subjects is accounted for by Sambataro's extensive travels on several continents. His noted portraits include those of Lyndon Johnson, John Lennon, Marilyn Monroe, Gary Busey, Barbara Streisand, Paul "Bear" Bryant and John F. Kennedy. Corporate owners include ABC Television, F.W. Woolworth Col., USAF-8th Air Force SAC Division, and the Parker Pen Company.
Remember, there is NO SALES TAX when you purchase outside of Colorado. We also offer deals on domestic and international shipping through UPS/FedEx. Don't forget to ask about our Collector's Financing Program through Wells Fargo to make payments stress free.
Do you have a question?
Fascination St. Fine Art is a brick and mortar gallery in Denver (Cherry Creek North), CO
Copyright © www.FascinationStArt.com and affiliates - all rights reserved. Images, trademarks, and information on this website are the property Fascination St. Fine Art, its affiliates, and designated studios, publishers and artists. This website is owned and maintained by the staff of Fascination St. Fine Art. Any use of this website constitutes acceptance of our [
Fascination St. Fine Art Website User Agreement
]. Prices and availability are subject to change.